All campaign schedules are now set and executed based on the Eastern Time Zone. Schedules had previously been established in the user's time zone and then converted to Eastern Time on the back end, which led to confusion.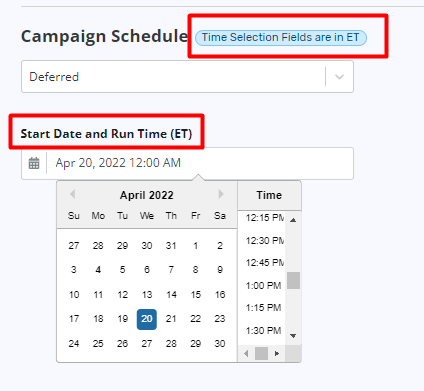 The Campaign Builder tool now checks mobile messages for included surveys. If a message template contains a survey parameter in the push/pull body fields, the campaign setup indicates that it's a "survey-based email." 
Order & Delivery now employs global IDs to reference items that are used for in-store loyalty to facilitate setup of loyalty rewards that can be redeemed either in-store or via online ordering. 
Additional data collection enables the Intelligent Item Recommender to automatically suggest appropriate up-sells to consumers who use online ordering.  
If a tip amount isn't set as a default, the user must enter it before proceeding with checkout. This modified tip flow helps ensure that the staff isn't denied a tip because the guest simply missed the field. 
Automated alerts are now clearer about what action the user must take to resolve an issue involving Handoff.  
Better logging of the communication associated with a given online order enables improved service and helps diagnose configuration issues. 
The Order & Delivery tablet application has been updated to allow for Bluetooth printing on devices running Android 11 or higher. 
The Uber Eats marketplace integration for Handoff now ensures that menus are automatically transferred upon activation. Users previously needed to manually perform the initial setup. 
Connecting the order-receiving application of the Order & Delivery tablet to the POS can now be done through a one-time user-generated code. The initial login formerly required permissions for the appropriate store. 
Clients using Brink and Handoff now have updated handling of markup and taxes, with the ability to process a markup as a surcharge or as an open item.  
Handoff can also pass a tax override of $0.00 to Brink when the tax has been remitted by a third-party marketplace. 
The same guest-facing labeling used for rewards elsewhere in the system now displays on the Order & Delivery checkout screen. 
Since substituting one modifier for another would result in the guest paying more to use Order with Google, Order & Delivery now omits items that have substitution pricing when publishing to Google. 
Several improvements have been made to the NCR/Radiant POS integration, including:  
If the point of sale is set up to pass pricing information to NCR's BSP cloud on a regular basis, Order & Delivery will sync prices. 

 

A BSP promotion configured in NCR can be ingested and auto-applied as a coupon, allowing in-store promotions and online ordering to be synced.

 

The taxes that NCR calculates for an order can override those generated during online ordering.

 
Order & Delivery now includes combos as part of menu syncing with Brink.  
To avoid display issues when syncing menu items from the POS with online ordering, leading and trailing spaces are automatically trimmed. 
Categories created within the menu-sync editor for Order & Delivery can now be transferred to other locations with the "copy menu-sync changes" feature. This functionality enables clients to create custom categories for online ordering and apply them elsewhere as needed. 
The enterprise menu editor for Order & Delivery allows submenus to be adjusted based on day parts, so clients can set things like a happy hour across multiple locations. 
Expanded functionality for clients running "reward yourself" programs and using online ordering enables guests to see a points range for items with multiple sizes. The points value was previously hidden because it could vary by size. 
The order-receiving application of the Order & Delivery tablet can now hide taxes estimated at zero, keeping them off in-store receipts. 
An integration between Order & Delivery and POSitouch has added the ability to hold a guest on the submission page until the system receives confirmation that an online order will be successful (i.e., the location is online and no items are out of stock). Because it could be activated without a time delay, nearly all orders were being rejected. A default of three minutes is now in place, but it's recommended that clients adjust the setting on their end.